ChroZen USP 467 Player is the optimized system for determination of residual solvents by fully complying with USP 467 and verifies the validity of analysis results for each analysis method.

United Stated Pharmacopeia (USP) classifies the residual solvents into Class Ⅰ, Class Ⅱ and Class Ⅲ depending on their risk to human health and USP 467 test method describes all the requirements for the analysis of residual solvents.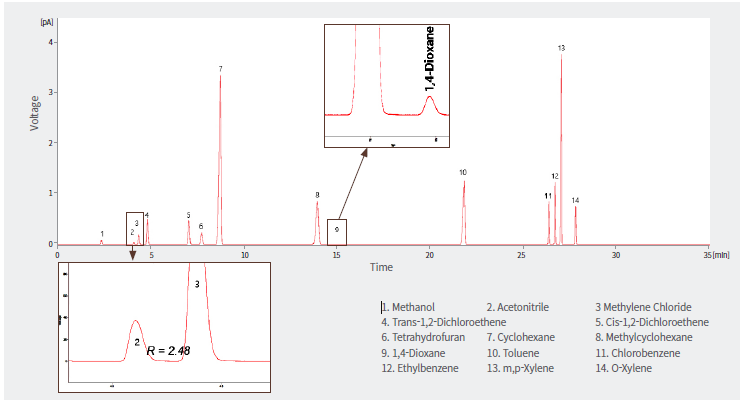 Chromatogram of Residual Solvents in Class 2A


Among 3 classes, class 2 is classified into 3 types. (2A, 2B, 2C) and USP 467 describes the methods for 2A and 2B only. The chromatogram above shows the analysis result for residual solvents in Class 2A and 2B. The resolution of Acetonitrile and Methylene chloride was 2.48, which sufficiently satisfies the requirement (not less than 1).

Total Dream Solution includes:
1. Smart Hardware Platform (Based on ChroZen GC)
2. Smart ChroZen PAL 3 Series Ⅱ
3. Smart Software Control (Chromatography Data System) with Method Setup
4. All Related Consumables and Accessories
5. Columns - 624MS Column : midpolarity Crossbond phase fused silica
30 m x 0.32 mm x 1.80 μm

ChroZen USP 467 Player includes ChroZen PAL RSI autosampler which can be adapted or extended to provide the combined injection techniques such as headspace injection, liquid injection, SPME (Solid Phase Micro Extraction) and ITEX (In-Tube Extraction) dynamic headspace in one instrument.